Lego Moving Models using Simple Machines
In this program kids ages 5 to 8 will learn all about science & engineering of Simple machines while designing their own moving models. Students will be introduced to how simple machines can be put together to make complex machines.
This program is geared to introduce young minds to basic engineering concepts by stimulating their natural curiosity to explore together and learn through play.
| | |
| --- | --- |
| Age Group: | 5  – 8 |
| Skill Level | Beginner |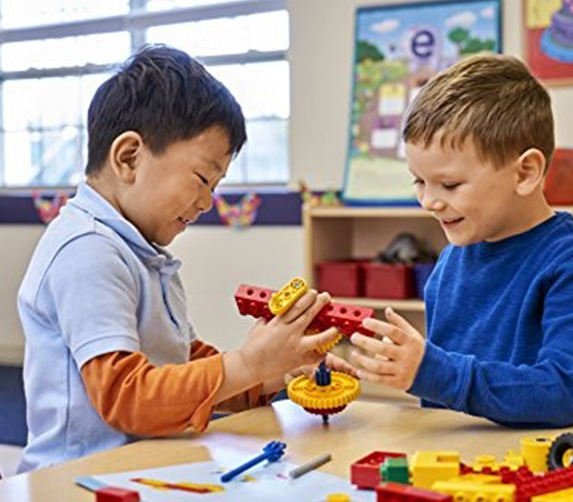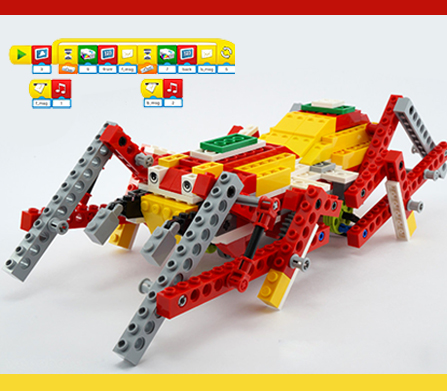 Lego Engineering & Programming – Level 1
Kids Ages 7 to 10 get  deeper understanding of designing complex machines while using advanced gear, lever, pulley & belt mechanisms. In addition They are introduced to  programming concepts where they use block functions. Each model functions based on the instructions/code written by students.
With this kid-friendly approach using LEGO bricks  , it makes learning fun, inspiring and engaging. Kids learn about complex topics in the fields of physics and engineering, as well as develop motor and cognitive skills through model building.
| | |
| --- | --- |
| Age Group: | 7 – 10 |
| Skill Level | Beginner |
Lego Science, Engineering & Programming – Level 2
This program is based upon the latest science standards and is created to enhance students' curiosity in the subjects of life science, physical, earth, and space sciences along with developing engineering & experimenting skills.
The mechanical models of LEGO WeDo 2.0 cover some typical mechanical structures, such as gears, bevel gears, rack, worm gears, crankshaft, pulley , belt drive, etc.
This is an amazing hands on, interactive program which introduces young children to a world of discovery.
| | |
| --- | --- |
| Age Group: | 8 – 11 |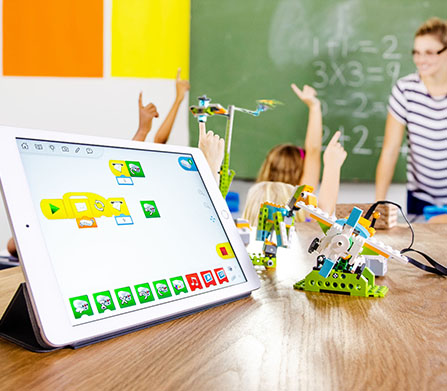 MINDSTORMS NXT 2.0 features the latest in robotic technology: an advanced programmable microcontroller, Interactive Servo Motors, smart sensors, icon-based drag-and-drop programming software, interactive challenges, and wireless Blue tooth and USB connections – all the smart technologies you need to create your custom robot.
| | |
| --- | --- |
| Age Group: | 9 – 16 |
| Skill Level | Intermediate |
LEGO® MINDSTORMS® EV3 is a hands-on, cross-curricular STEM solution that engages students by providing the resources to design, build and program their creations while helping them develop essential skills such as creativity, critical thinking, collaboration, and communication.
LEGO® MINDSTORMS® EV3 combines LEGO Technic building elements, powerful hardware and Python programming with project-based learning focusing on engaging STEM topics. The EV3 Intelligent Brick, motors, and sensors let students analyze and apply real data, as they design and build advanced and diverse robotics inventions.
EV3 offers the opportunity for confidence-boosting in-depth study, preparing students to pursue further education in computer science, engineering and other related areas.
| | |
| --- | --- |
| Age Group: | 9 – 14 |
| Skill Level | Advance |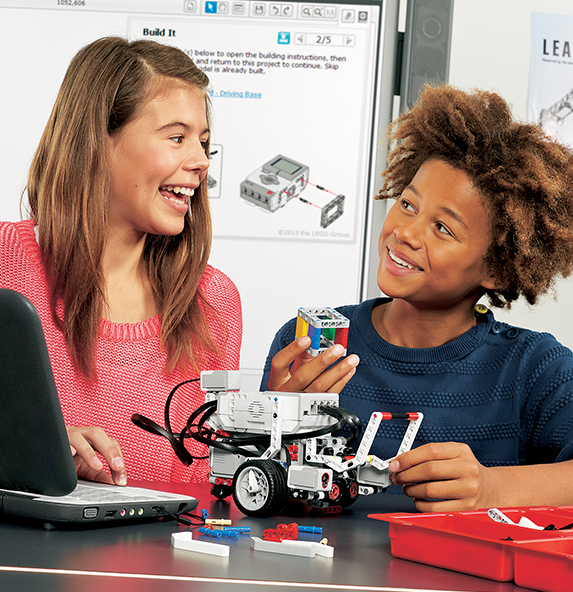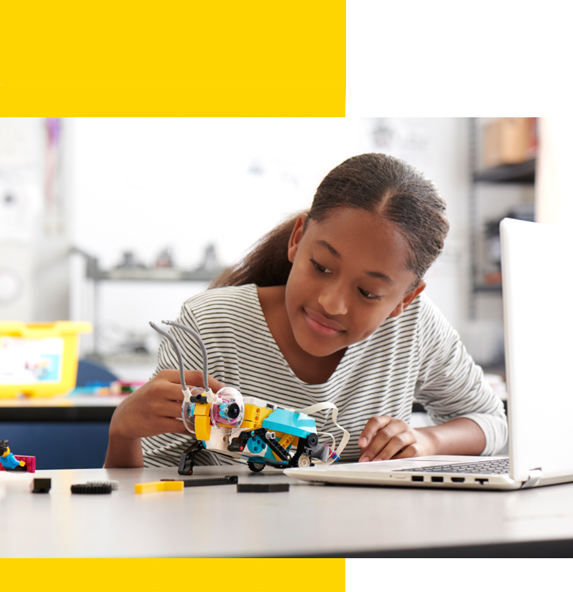 Teach Science & coding with unique Lego SPIKE™ Prime
The LEGO® Education SPIKE™ Prime Set is the futuristic learning tool for grade 6-8 students. The set includes colorful LEGO building elements, easy-to-use hardware, and an intuitive drag-and-drop coding language based on Scratch.
SPIKE Prime continuously engages students through playful learning activities to think critically and solve complex problems, regardless of their learning level.
This program includes the option to explore text-based coding with Python, SPIKE Prime helps students learn the essential skills os 21st century needed to become the innovative minds of tomorrow… while having fun!
| | |
| --- | --- |
| Age Group: | 9 – 14 |
| Skill Level | Advance |
Hands-on, minds-on STEM learning and the feeling of creating something with technology.
VEX Robotics is educational robotics for all levels.
VEX encourages creativity, teamwork, leadership, and problem solving among groups. It engages and inspires the STEM problem solvers of tomorrow!